Personalized Home Care in Eugene
Serving West-Central Oregon, including Eugene, Cottage Grove, Veneta, Springfield, Junction City and across Lane County
Serving West-Central Oregon, including Eugene, Cottage Grove, Veneta, Springfield, Junction City and across Lane County
The Eugene Branch of Family Resource Home Care is a Tight-Knit Family.
Our Eugene Branch became part of the Family Resource Home Care family in 2021!
Our 24-hour support and flexible care practices provided to those in the Eugene area give peace of mind to families, knowing that additional assistance is just a call away.
We also take special pride in making sure that each client gets matched with the right caregiver, so everyone can feel secure and cared for, receiving superior customer service from all of those on our staff!
Quality In-Home Senior Care Services in Eugene, Oregon.
At Family Resource Home Care, we provide our clients with the comfort and peace of mind they deserve. Our team of experienced professionals proudly offers quality in-home senior care services throughout Eugene and surrounding areas in west-central Oregon – allowing seniors to remain where they want to be: home.
We strive for excellence by ensuring that each client receives credible, knowledgeable, compassionate support, all while feeling secure within their environment. Connect with us today – let's chat about how our branch can help your family!
Highest Standard of Home Care in Eugene
Family Resource Home Care offers unparalleled home care services in Eugene, Oregon. Our personalized approach ensures that your loved one will be cared for with empathy and expertise by dedicated caregivers who receive custom training based on each individual's needs.
We establish meaningful relationships with our clients and provide a high standard of senior home care service to those in Eugene. Choose Family Resource Home Care today so your beloved family member can get the professional support they need while still feeling the comforts of home.
Specialized Senior Home Care
When you need extra help caring for your senior loved one, Family Resource Home Care is here to provide the specialized care and support they deserve. Our trained, experienced team understands how unique each case can be – whether dealing with Alzheimer's disease or chronic illness management – and we strive to make sure our clients in West-Central Oregon and across Lane County get the best possible care available.
Reach out today for more information about how we can help you and your loved one.
Home Care Services in
Eugene, OR
Need home care, but live outside of Eugene, OR?
Find out if you live within the coverage area of one of our many locations throughout the Pacific Northwest.
Our Commitment
Aging, chronic disease or injury/hospitalization sometimes require additional support to help us live in safety and in comfort. Since 2021, we have proudly served the Eugene, Cottage Grove, Veneta, and  Lane County area with reliable care and companionship.
We bring comfort to the whole family, knowing their loved one is supported by our experienced caregivers and professional office staff.
Our Caregivers
Our caregivers are chosen for their ability to provide exceptional care and foster personal relationships. We match caregivers to the unique needs and preferences of each client. From a few hours a week to live-in care, you or your loved one will receive compassionate one-on-one service from a trained and qualified caregiver who has passed a rigorous background check. You also have peace of mind knowing an on-call supervisor is available 24/7.
Our Clients
We serve clients ranging from the elderly, those with advanced dementia, and youth and adults with special needs to those who just need extra support after hospitalization. Our clients live in a variety of settings from personal homes to assisted living facilities. We are in regular contact with our clients as well as our caregivers, to make sure information is shared in an accurate and timely manner. We also have clinically trained staff who provided ongoing assessment and supervision of caregivers.
Meet Our Eugene Team
"I love being able to come to work and be surrounded by loving, compassionate people who go above and beyond to provide the best care for our clients. We love working alongside each person and their families, getting to know each client, listening, understanding, and respecting their needs. Being there to provide exceptional care and improve the lives of those around us is what drives me to work every day!"
– Angie Clingenpeel
Jackie Zakrajsek, MSHA
Area Vice President – Oregon
Angie Clingenpeel
Branch Manager
Pam Landis
Caregiver Manager 2
Sierra Rees
Caregiver Manager 1
Tyler Rodriguez
Client Care Supervisor
Jessica Green
Client Care Supervisor
Angela Waggoner, RN
Registered Nurse
Shandra Cha
Talent Acquisition Specialist
Award Winning Senior Home Care in Eugene, OR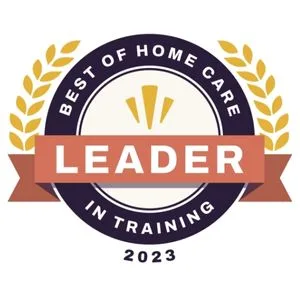 What our clients are saying